Hardwick Mountain News and Events
Fall Road Work Party
On Saturday, Oct. 7, 2017, 12 owners showed up to work on our roads for five hours. Shown working (front to back) on the entrance hill are Traci Prober, Steve Hovanic, Henry Winger, John Barnhill, Mark Hogan, Carl Prober (on Gator), Marc Cole, and Carroll Shipp (on tractor). Also working, but not captured in this photo were Charlie Dulaney (tractor), David Butterfield, Steve Harper and yours truly.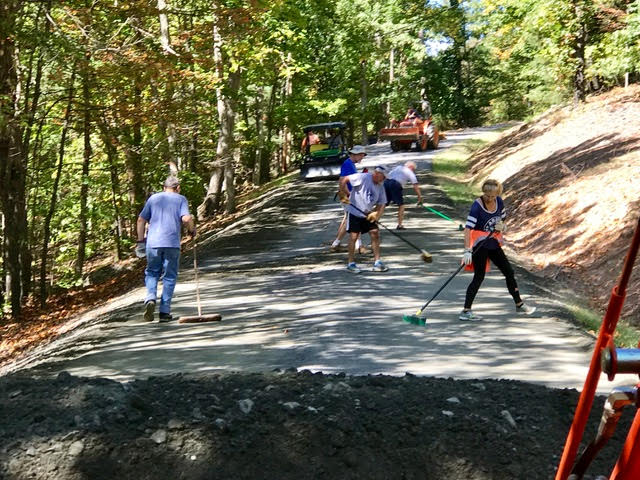 We spread 60+ tons of crusher run on the road edges to protect them from cracking and breaking up when a vehicle goes off the blacktop. The team finished 3,433' of our 6,000'+ total roadway - or just over 56%.
Rather than burn up those who worked so hard, we decided to put off finishing the job until either next Saturday (14th) or the following one (21st). We'll send out an invite this week letting you know when that will be. If you can help but one of those days is better for you, please let either me or Marc Cole know.
Carroll Shipp said a contractor would have charged $12,000-$13,000 for the work we did. So we're protecting our roads and saving the Association some good money.
Thanks to everyone who contributed!
Kai, on behalf of HMPOA board.

Letter To Homeowners
Jan. 25, 2016
Many thanks to all who helped clear the snow (which is pretty much everyone…a real team effort).
In less than 24 hours from the time the 18" of snow stopped falling, we had cleared all of our roads, and dug out most driveways. This morning it is safer to drive down the steep side of Hardwick Mountain Drive than it is to drive on most secondary state-maintained roads in the state. According to the 29News, few subdivisions on level land can say that. So great work, everyone!
Special thanks to…
Mark Lawson, who plowed our roads 3 times - in spite of blowing his hydraulic system in the process.
Carl Prober, who coordinated across the 18 hours of the storm with Mark, and plowed with his gator.
All those with tractors and 4-wheelers, some of whom worked before daylight to help clear the roads. Jeremy Cole, Marc Cole (both who i understand even plowed some of Rt. 665), Mark Hogan, Henry Winger, Charlie Dulaney, Steve Harper, Whit Harrell, Carroll Shipp, Dick Smith, Bryan Lovetere, Brian O'Neill (who dug out with tractor and shovel the cars parked at the bottom). I sincerely apologize if i left anyone out!
Those who parked at the bottom so you wouldn't have to drive on treacherous roads
Everyone who kept your cars off the roads until we could get them cleared.
Oh yeah…and to Dept. of Forestry for the Firewise grant that paid to have the pine trees from both sides of Hardwick Mountain Drive near the top chipped. Also to Carl Prober and Marc Cole for helping drop those trees.
And finally, to the sun for helping melt the white stuff on the south slope.
Yeah, we had some luck with the weather in spite of what it tried to do to us - but we worked hard and fast to make the most of that. Thanks to everyone who helped clear the roads - and a special thanks to each of you who helped clear a neighbor's driveway or provided help in other ways.
If anyone still needs any help, I'll bet any of the people listed above will be glad to do whatever they can. I certainly will.
Kai
on behalf of the HMPOA board:
Carl Prober
Kai Dozier
Jeremy Cole
Mark Hogan
Steve Harper
Susan Jamme

Letter From Gena and Larry Keller
From: Gena Keller
Date: Sat, 27 Nov 2010 18:48:21 -0800 (PST)
To: Kai Dozier
Subject: Update from Larry and Gena

Hi, Kai and Jan

We hope your Thanksgiving was wonderful! It was our first Thanksgiving away from Hardwick Mountain....I think we have lived there since 1996...wow!

We are "almost finished" with moving everything...the garage will be the last big chore...and a big one, at that! (-:

We are writing to give you an update that we thought you might share with your group e-mail list of Hardwick Mountain residents.

We expect to close on our house within the next two weeks - we had the home on the market less than 6 weeks and it sold to the first person who visited! The couple who bought the home is retiring from Ohio and found our home listed on the internet. We are so grateful that someone fell in love with this house and will make Hardwick Mountain their home.

Larry and I have loved living in this beautiful home with such wonderful neighbors. There is so much we will miss - the beautiful sunsets, the unbelievable views and the quiet neighborhood. We are also going to miss seeing you guys...and, please know that we have appreciated everything that you have done to make Hardwick Mountain a great place to live.

We are fortunate to have found a great home in Fluvanna....10 acres, relatively private and a beautiful setting....you will have to come visit!

If you need us or would just like to visit, please call:

Our new home address:
380 Ballenger Lane
Palmyra Va 22963

Please keep in touch and thank you for forwarding HMPOA info to one of our realtors, Bonnie Field. Take care.

Gena and Larry


Member Submissions
Do you have news to share with the community? Are deer eating your prize hostas or have wild turkeys found the sunflower seed you spread on the ground? Would you like to announce a birth in the family, or share graduation news? Are you involved with a local play, or a fund-raiser barbecue to support a local charity?
Click here to contact the Webmaster with your submission, and check back for updates on the goings on in and around our Hardwick Mountain community.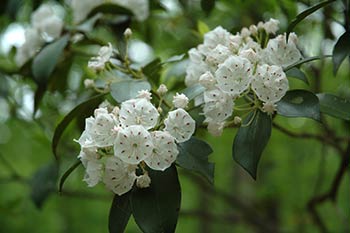 Mountain Laurel